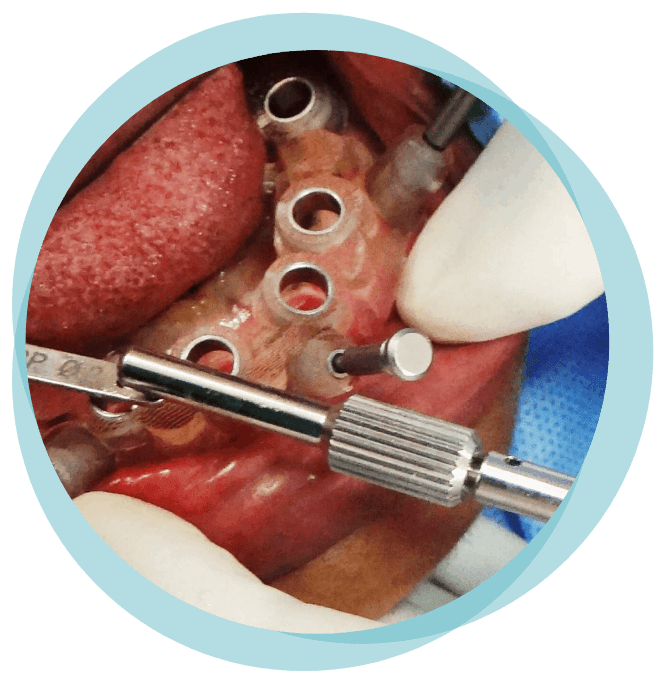 Kosmo Dental Team has developed a highly sophisticated surgical approach for Implant therapy in Hyderabad. In this approach first, we take CBCT (a kind of CT scan specially developed for Implant therapy). This CBCT will give Doctors a clear idea of what exactly is there inside the skin like; Bone volume, bone quality,and important blood vessels. With this special software, our expert will plan the surgery so that no blood vessel or any important vital structure should not get damaged.
This entire planning is printed with the help of 3D printers at Komo Dental Clinic. These guiding prints are called templates. These templates will help the operating doctors to do the surgery without opening the mucosa or skin. Generally in conventional surgeries, doctors give a very big incision to separate all the blood vessels and perform the implant surgery, but in this case, we are already planning it in the CBCT software and getting a guide template printed. With the help of a template, a surgeon can perform the same procedure without any incision or bleeding. He just needs a single drill to perform this big surgery, that is why it is called Keyhole surgery.
Advantages of Impant Key Hole Surgeries
Kosmo dental has got an excellent Implantology Team. Implantology Head Dr. M Anil Goud has got vast experience in implantology and he is one of the Internationally recognized implant surgeons.

Share your Smile with the World!
At Kosmos, you get the best of modern dentistry, in the biggest
dental clinic in Hyderabad. Book your appointment today!